Ultra Bone-Up® 120 tabs dietary supplement by Jarrow formulas- promotes Bone Density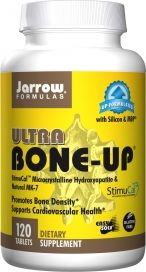 Ultra Bone-Up® 120 tabs dietary supplement by Jarrow formulas- promotes Bone Density
Powerful Multinutrient Bone-Health System
Builds-On Studied Bone-Up® Formula*
100% Ossein Microcrystalline Hydroxyapatite Complex

Source of natural bone-growth factors

Same As Original Bone-Up Plus:

Stimucal™, MBP® and Natural M-7
Ultra Bone-Up ® provides StimuCal™ ossein MicroCrystallineHydroxyApatite (MCHA) (from free-range New Zealand calves), which includes the superior combination of the inorganic calcium lattice of MCHA within an organic protein milieu. StimuCal™ is rich in native type I collagen—the predominant protein found in bone­­—and has been clinically demonstrated not to disproportionately spike calcium blood levels as do other forms of calcium, such as the citrate and carbonate salt forms. StimuCal™ is combined with vitamin D3,vitamin K2 (as MK-7 from natural fermentation [a more bioavailable form of vitamin K]) and JarroSil® Activated Silicon® to support the deposition of calcium into the bones, aswell as to assist in building up the organic bone matrix.* Also included for optimal osteo support, are potassium citrate (systemic alkalizer) and MBP® (Milk Basic Protein) (activates osteoblasts and decreases osteoclast activity).* Bone Up® also supports cardiovascular and arterial health.*
HEALTH CLAIM: Adequate calcium and vitamin D as part of a healthful diet, along with physical activity, may reduce the risk of osteoporosis later in life.
Keep out of the reach of children.
Suggested Usage

Take 2 tablets three times per day with meals, (for a total of 6) to facilitate maximum absorption, or as directed by your qualified healthcare professional.
NOTE: If you have a medical condition, are pregnant, lactating, trying to conceive, or taking medications (especially warfarin/Coumadin), consult your healthcare professional before using this product.

Other Ingredients

Cellulose, stearic acid (vegetable source), magnesium stearate (vegetable source), silicon dioxide and a food grade coating.
Contains: Dairy (Whey) and soy (in trace amounts).
No wheat, no gluten, no egg, no fish/shellfish, no peanuts/tree nuts.
StimuCal™ is a registered trademark of PharmaZen Ltd., and is patent pending.
MBP® is a registered trademark of MEGMILK SNOW BRAND Co., Ltd. of Japan.
Reviews