Ribose 1000mg chewable 90ct by Jarrow Formulas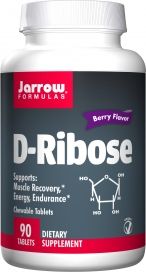 Ribose 1000mg chewable 90ct by Jarrow Formulas
Ribose 1000mg Chewable Tablets 90ct
Chewable D-Ribose Tablets
100 % Bioenergy Ribose®
1000 mg Ribose Per Tablet
Production Protected by 4 U.S. Patents
Ribose is one of the necessary building blocks for the formation of ATP, the "universal" energy molecule in the body.* Physical stress can deplete ATP stores in cardiac and skeletal muscles. As the rate-limiting substrate in the synthesis of nucleotides, including ATP, ribose plays a vital role in replenishing ATP, thus, enhancing energy production, improving muscle recovery and thus Muscle Edge®.*
Jarrow Formulas® Bioenergy Ribose® is made by microbial fermentation and protected by U.S. patents 6,159,942, 6,534,480, 6,218,366 and 6,339,716.
Keep out of the reach of children.
Suggested Usage

Chew 1 to 6 tablets before or after exercise or as directed by your qualified healthcare professional.

Other Ingredients

Xylitol, natural berry flavor, cellulose, stearic acid (vegetable source), magnesium stearate (vegetable source) and silicon dioxide.
No wheat, no gluten, no soybeans, no dairy, no egg, no fish/shellfish, no peanuts/tree nuts.
Suitable for vegetarians/vegans.
Reviews