Jarro-Zymes Plus Vegetarian 60vcap by Jarrows formulas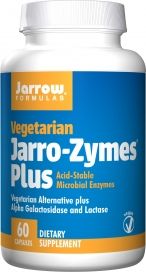 Jarro-Zymes Plus Vegetarian 60vcap by Jarrows formulas
Jarro-Zymes Plus Vegetarian 60vcap
Vegetarian Jarro-Zymes® Plus is a special formulation of acid-stable microbial and fungal enzymes with activities similar to pancreatin, containing amylase, lipase, and a complex of endo- and exopeptidases that are active over a wide range of gastrointestinal pH. Alpha galactosidase is produced by single cell fermentation and facilitates digestion of legumes. Lactase is added to facilitate the digestion of lactose.*
Suggested Usage

Take 1 capsule with each meal or as directed by your qualified healthcare professional. DO NOT chew this product. Swallow quickly with adequate liquid.
NOTE: If you have a medical condition, are pregnant, lactating, trying to conceive, or taking medications, consult your healthcare professional before using this product.

Other Ingredients

Magnesium stearate (vegetable source), silicon dioxide, cellulose, rice bran and medium chain triglycerides. Capsule consists of hydroxypropylmethylcellulose.
No wheat, no gluten, no soybeans, no dairy, no egg, no fish/shellfish, no peanuts/tree nuts.
Reviews