Hawtorn 100cap 500mg by Jarrows Formulas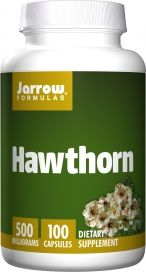 Hawtorn 100cap 500mg by Jarrows Formulas
Hawtorn 100cap 500mg
Hawthorn (Crataegus oxycantha) has been used for centuries to aid circulation.* Clinical research has identified the compounds responsible for hawthorn's beneficial activities.* These compounds include flavonoids, such as vitexin-2"-O-rhamnoside. The powerful antioxidants in hawthorn help to protect the cells of the cardiovascular system from free radicals.*
Suggested Usage

Take 1 capsule 1 to 2 times per day or as directed by your qualified healthcare professional.
NOTE: If you have a medical condition, are pregnant, lactating, trying to conceive, under the age of 18, or taking medications, consult your healthcare professional before using this product.

Other Ingredients

Cellulose, magnesium stearate (vegetable source) and silicon dioxide. Capsule consists of gelatin.
No wheat, no gluten, no soybeans, no dairy, no egg, no fish/shellfish, no peanuts/tree nuts.
Reviews