Greek Yogurtein, Coconut 446g With Greek Yogurt Powder, Fibers, Whey and Micellar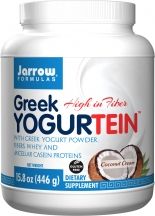 Greek Yogurtein, Coconut 446g With Greek Yogurt Powder, Fibers, Whey and Micellar
Greek Yogurtein, Coconut 446g
With Greek Yogurt Powder, Fibers, Whey and Micellar
Casein Proteins
Jarrow Formulas® Greek Yogurtein™ combines Greek Yogurt with additional high-quality proteins and is optimized with dietary fibers. It is a great tasting (lacto) vegetarian protein, fiber source and rich in calcium. The proteins in Greek Yogurtein™ are highly bioavailable.* Moreover, the inclusion of quick-digesting (whey) and slow-digesting (micellar casein) proteins provide added support for sustained energy levels and muscle replenishment.* The dietary fibers promote digestive health, bowel regularity and microfloral ecosystem balance.* Greek Yogurtein™ has a rich and creamy texture and is easily mixed with your favorite beverages.
······FEATURES······
15 g of Protein per Serving
High in Dietary Fibers
Gluten Free
Rich in Calcium
Great Tasting
Mixes Easily
Suggested Usage

Add 2 level scoops (Approx. 40 g) of powder to 4 to 6 oz. of water, milk, almond milk, rice milk, soy milk or your favorite beverage. For a protein smoothie, blend with water and ice, and add fruit to optimize taste. For a thicker consistency, mix with less liquid as desired.

Ingredients

Greek yogurt powder, whey protein concentrate, Vitafiber™ (Isomalto-oligosaccharides), coconut meal blend (coconut fruit solids, sucrose, fructose and maltodextrin [from maize]), micellar casein protein concentrate, apple pectin, natural coconut flavor, natural vanilla flavor, Lo Han Guo (Momordica grosvenorii) and rebiana (stevia extract).
Contains: Milk (casein and whey), soy (from lecithin) and tree nuts (coconut).
No wheat, no gluten, no egg, no fish/shellfish, no peanuts.
Greek Yogurtein™ can be a part of your weight management regimen, but is not a complete nutrient source and so should not be used exclusively
Reviews