Grass Fed Whey, Chocolate 391g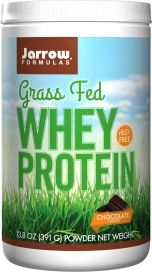 Grass Fed Whey, Chocolate 391g
Grass Fed Whey, Chocolate 391g
From Austrailian cows grass fed year round
From pesticide-free pastures
Not treated with growth hormone (rBST) or antibiotics
Non-GMO and gluten free
Jarrow Formulas® Grass Fed Whey Protein comes from South Australian cows fed grass year round and not treated with growth hormone (rBST) or antibiotics. South Australia is a temperate climate zone, which allows the dairy cows to roam the open pastures, untainted by pesticides.
Jarrow Formulas® Grass Fed Whey Protein is a good source of calcium (100 mg per serving) and rich in essential amino acids (9.3 g per serving).
Store in a cool, dry place.
Suggested Usage

Mix one heaping scoop (Approx. 26 g) with 6 to 8 oz. of cold water, almond milk or your favorite beverage. For a protein smoothie, blend with crushed ice and add juice or fruit to taste. Jarrow Formulas® Grass Fed Whey Protein has a rich and creamy texture.

Ingredients

Grass Fed Whey protein concentrate, non-gmo sunflower lecithin, natural chocolate flavor, organic cocoa powder, natural coconut flavor and Lo Han Guo (Momordica grosvenori).
Contains: Milk
No wheat, no gluten, no soybeans, no egg, no fish/shellfish, no peanuts/tree nuts.
Contains NO artificial flavors or artificial sweeteners.
Whey Protein is not a complete nutrient source and should not be used exclusively for weight loss. This product contains no added L-Tryptophan.
Packaged by weight, not by volume.
Typical Amino Acid Profile
of Jarrow Formulas®
Grass Fed Whey Protein
Per 26 g Serving
| | |
| --- | --- |
| Essential Amino Acids | |
| Isoleucine (BCAA) | 1.19 g |
| Leucine (BCAA) | 2.05 g |
| Valine (BCAA) | 1.15 g |
| Phenylalanine | 0.63 g |
| Methionine | 0.38 g |
| Lysine | 1.83 g |
| Tryptophan | 0.36 g |
| Threonine | 1.35 g |
| Arginine (semi-essential) | 0.53 g |
| Histidine | 0.34 g |
| Total ≥ | 9.3 g |
| Non-Essential Amino Acids | |
| Alanine | 0.98 g |
| Aspartic Acid | 2.04 g |
| Cysteine | 0.36 g |
| Glutamine + Glutamic Acid | 3.38 g |
| Glycine | 0.36 g |
| Proline | 1.15 g |
| Serine | 1.00 g |
| Tyrosine | 0.56 g |
Non-GMO
Reviews