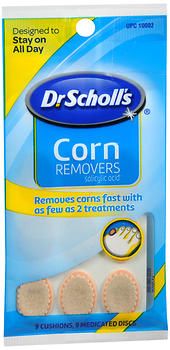 DS CORN RMVR CUSHION 9
For removal of corns. Relieves pain by removing corns. Removes corns within 14 days with as few as 2 treatments. The soft pad cushions corn from painful shoe pressure & friction. Stays on all day. Contains: 9 cushions; 9 medicated disks.
Directions
Wash affected area and dry thoroughly. If necessary, cut medicated disk to fit corn. Apply medicated disk with sticky side adhering to skin. Cover medicated disc with enclosed cushion. After 48 hours, remove medicated disk. Repeat procedure every 48 hours as needed for up to 14 days (until corn is removed). May soak corn in warm water for 5 minutes to assist in removal. Store between 20-25 degrees C (68-77 degrees F).
Active Ingredients
Salicylic Acid 40%
Inactive Ingredients
Antioxidant (CAS 991-84-4); Iron Oxides; Mineral Oil; Petroleum Hydrocarbon Resin; Silicon Dioxide; Synthetic Polyisoprene Rubber; Talc
Reviews