Animal Rescue Shape-Sorting Truck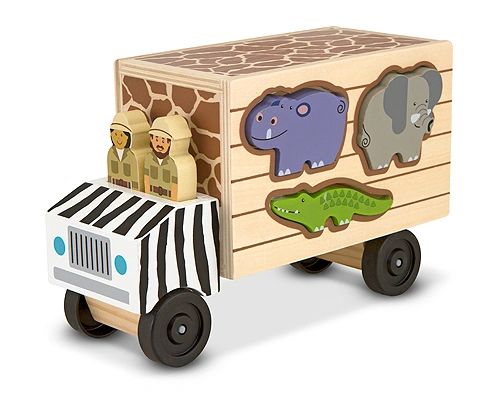 Animal Rescue Shape-Sorting Truck
Melissa & Doug Classic
Animal rescue rangers to the rescue! With this rugged safari truck, two cheerful people are ready to zoom across the savannah to help their animal friends. The alligator, zebra, rhinoceros, elephant, giraffe, hippopotamus, and lion fit into the sides of the wooden truck toy through die-cut slots, so this exciting toy is perfect for imaginative play and fine motor skills . . . and much more! Lift and remove the cargo door to unload the colorful animals, then count and stack the solid-wood pieces before loading the truck and securing the door in its track. One male and one female ranger fit in the cab of the truck, or come out to tend to the animals on the preserve. Play ideas are included to reinforce basic skills and inspire creative play.
Extension Activities: More Ways to Play and Learn:

Line up all the animals side by side and encourage the child to name each one.
Ask the child to point to the correct animal when you give clues about its appearance. (For older children, place the animals face-down first!)
Place the animals around the play space and ask the child to "drive" the safari rescue truck around the room, picking up animals along the way.
Reviews